Cześć!
Lakiery nawierzchniowe to nie jest moja mocna strona. Jestem zbyt leniwa, by ich używać, dlatego raczej ich nie kupuję. Ale kiedy zobaczyłam zdjęcia tego produktu, musiałam go wypróbować. Z jakim efektem?
Informacje o produkcie:
Cena:
Moja opinia:
Opakowanie: duża buteleczka zawiera aż 15 ml produktu. Nigdy tego nie zużyję, jak dla mnie takie lakiery są zdecydowanie za duże. No, ale co kto woli. Buteleczka ma srebrną nakrętkę, dzięki której łatwo odróżniam topcoat od pozostałych produktów. Co więcej, chropowata powierzchnia nakrętki ułatwia otwieranie produktu.
Aplikacja/Efekt: lakier ma lekką konsystencję, nakłada się cienką warstwą bez smug. Jedna warstwa daje oczekiwany efekt. Szybko wysycha, dlatego doskonale nadaje się do odświeżenia mani. Produkt daje bardzo ciekawy efekt. Moim zdaniem zmienia zwykły lakier w wersję wieczorową, bardziej przykuwającą wzrok. Nie jest to klasyczna perła, ale dzięki temu topcoatowi lakier mieni się w słońcu na kilka kolorów. Wygląda bardzo ładnie. Trwałość produktu zależy od lakieru, na który go nakładamy.
Podsumowując: Mimo iż produkt daje ładny efekt, nie kupiłabym go ponownie. Duża butelka jest dla mnie nie do wykończenia. Co więcej, zdjęcie w internecie nie oddaje efektu, który otrzymujemy. W rzeczywistości jest on delikatniejszy. Produkt polecam maniaczkom kosmetyków, gdyż jest ciekawym gadżetem, który staremu lakierowi da nowe życie.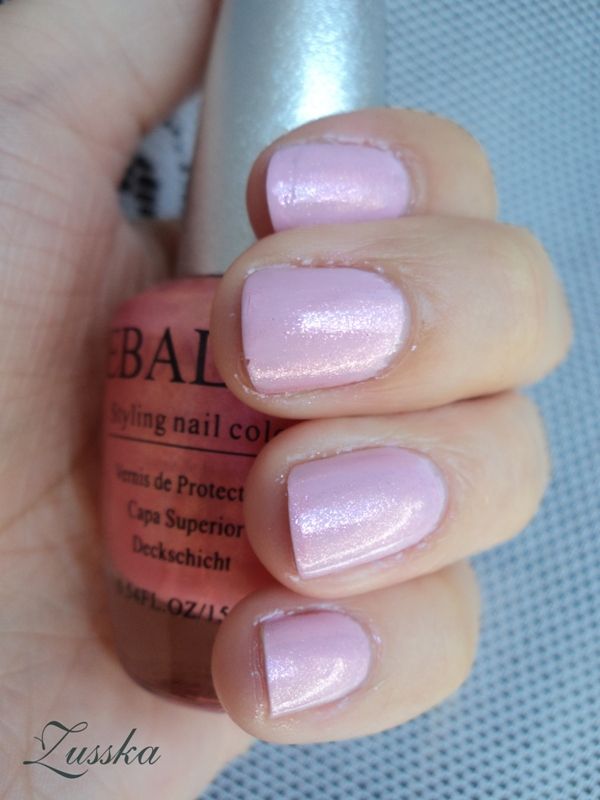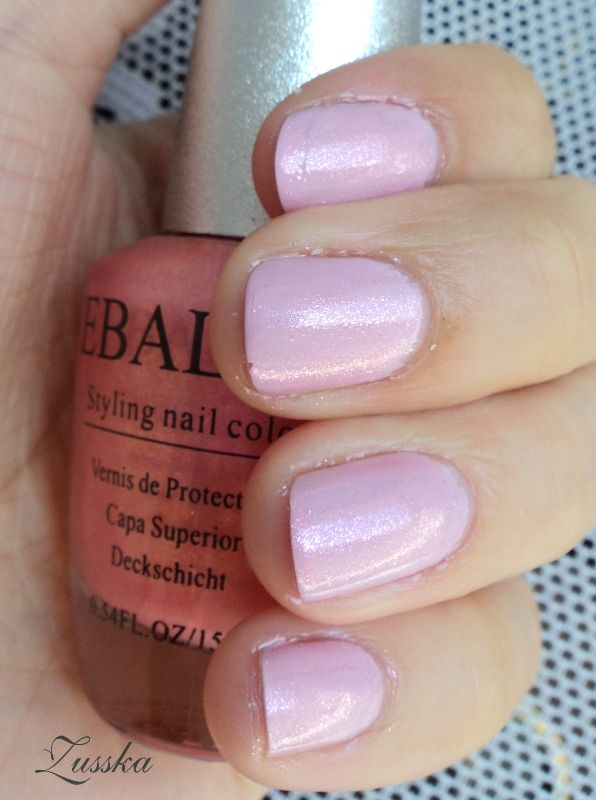 KKCenterhk, I would like to thank you for receiving this product for review. I think it's a quite nice product. I hope, it wasn't our last cooperation. I would like to add that the fact of cooperation didn't have any influance on my review.
Thank you, zusska
Check out zusska blog
http://zusska.blogspot.hk/2012/07/kkcenterhk-ebalay-baby-pink-iridescent.html