Pędzelki do zdobień do taka rzecz, którą każda lakieromaniaczka posiada w swoich zbiorach. Może to nie są obszerne kolekcje, ale coś zawsze się znajdzie. Ja do tej pory posługiwałam się kilkoma, bardzo podobnymi do siebie pędzelkami kupionymi w chińskim sklepie. Dlatego, kiedy
KKCenterHk
w ramach współpracy dało mi możliwość wyboru
pędzelków
nie wahałam się ani chwili. Dodatkowo wybrałam
płytkę do stempli
, ale o niej kiedy indziej ;) Mam nadzieję, że moja notka nie będzie kopią posta
Zu
, która dla porównania pokazała Wam ostatnio pędzle innej firmy.
15

pędzelków
dostajemy w plastikowym opakowaniu, które ja oczywiście wykorzystam do ich przechowywania, a każdy z pędzelków (oprócz wachlarzykowych) jest zabezpieczony dodatkowo plastikową osłonką. W skład zestawu wchodzą (za opisem na stronie - wybaczcie, że po angielsku nie znam wszystkich nazw po polsku):
2x
Pull Pen, 1x
Line Pen, 1x
Painting pen, 1x
Paint pen, 4x
Spread pen, 1x
Dot Pen, 1x
Sketch Pen, 2x
Fan-shaped Pen, 2x
Gel Nail Pen. Pędzelki wykonane są z trwałego, syntetycznego materiału, który podobno jest łatwy do czyszczenia (z tym bym się kłóciła). Co do czyszczenia. Producenta zaleca czyszczenie ich ciepłą wodą z mydłem lub szamponem i nie zaleca czyszczenia ich zmywaczem do paznokci. Myślę, że w przypadku używania farb akrylowych ten patent by się sprawdził. Niestety po lakierze zostały trwałe odbarwienia (tak próbowałam ich się pozbyć i zmywaczem, ale nic to nie dało), ale nie sprawiło to, że właściwości pędzelka się zmieniły. Nadal bardzo fajnie i wygodnie się nimi operuje. Przyznaję się, że naoglądałam się masę tutoriali jak z pędzelków korzystać, co danym rodzajem można wykonać i... zaczęłam zabawę.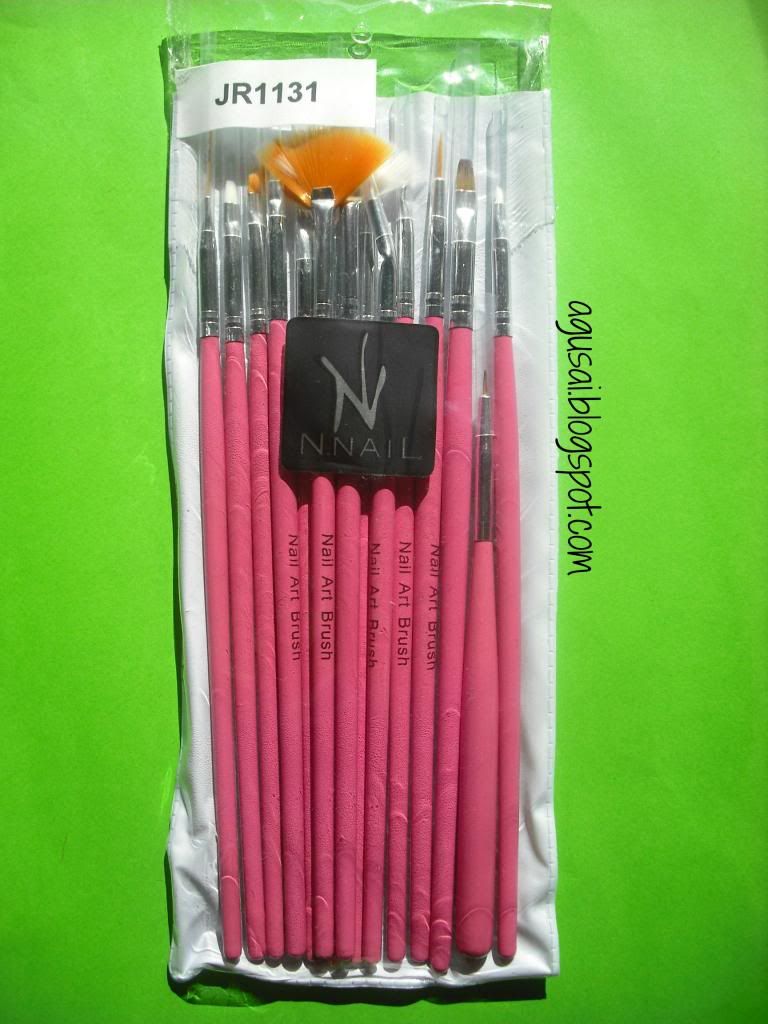 Ale zacznijmy od początku. Tak prezentują się pędzelki, a na poniższych zdjęciach możecie zobaczyć jak malują. Nie pokazałam tylko białego wachlarzyka, ponieważ zostawiłam go sobie do brokatów i mam nadzieję, że niedługo pokażę Wam zdobienie z jego wykorzystaniem: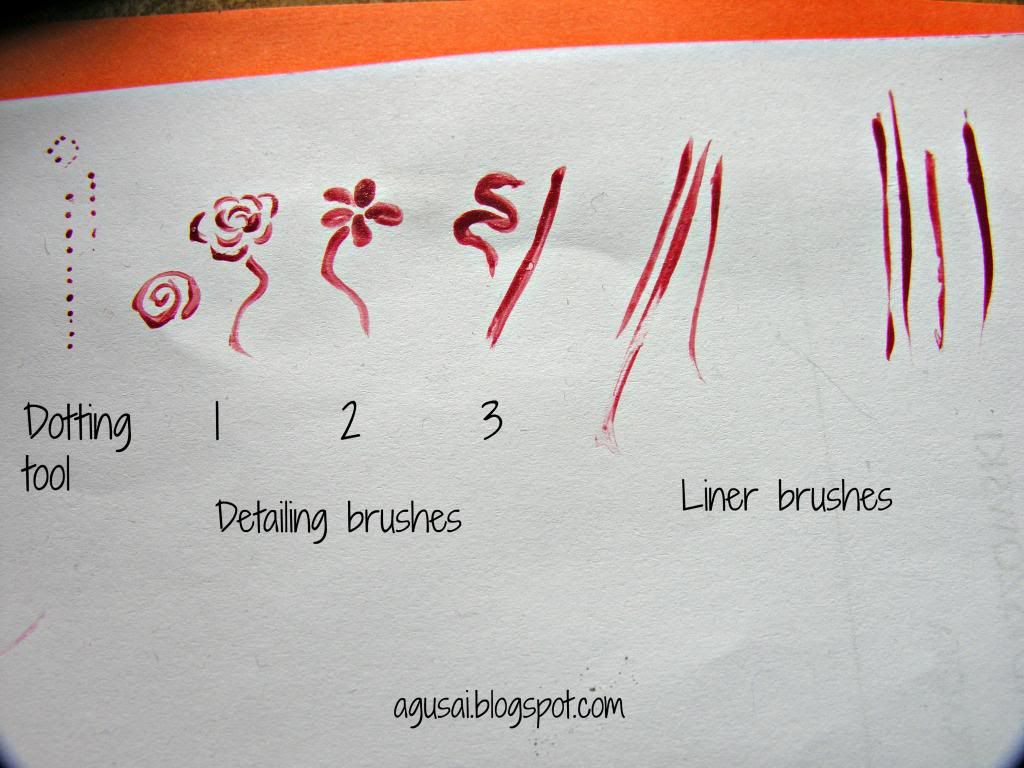 A zanim pokażę Wam pierwsze próby na próbniku i papierze myślę, że przybliżę Wam do czego służą poszczególne rodzaje pędzli, bo podejrzewam, że nie wszystkie jesteście (podobnie jak i ja) ekspertkami do czego dany służy:
Pędzle wachlarzowe

- nakładanie brokatów, cieniowanie, tworzenie innych, podobnych efektów
Płaskie pędzle

- bardzo grube linie, manicure francuski, tzw. one stroke, płatki, listki, inne detale
Sonda do paznokci

- wszystkim dobrze znane kropeczki, ale również marbling (nie znam polskiego odpowiednika tego rodzaju zdobienia, możecie je zobaczyć poniżej)
Pędzle do detali

- detale, spiralki, wiry, szlaczki, płatki, obrysowania wzorów
Stripery - linie, wiry, liście
Oczywiście ta lista jest tylko sugestią i możecie danymi pędzlami stworzyć co tylko chcecie. Ale mam nadzieję, że trochę Wam ułatwię tym sprawę. Teraz muszę zakupić tylko farbki akrylowe, bo to ułatwi mi sprawę zdobień, ale jak widzicie lakierami też się da. Nawet one stroke jest możliwy, co mnie osobiście bardzo ucieszyło, bo to była moja pierwsza próba.
Moje nocne i raczej marne próby malowania, od lewej: pędzel wachlarzowy, liner, płaski, pędzle do detali i sonda
Moje pierwsze próby one stroke
Ja osobiście jestem bardzo zadowolona z tego, że pędzelki dostałam. Zdecydowanie rozszerza mi to gamę zdobień, które mogę stworzyć nawet ze swoimi niewielkimi umiejętnościami. Już mam kilka wizji, którymi na pewno się pochwalę ;)
Pędzelki kosztują 15$ (po zniżce 13.50$) i możecie je dostać
>>TUTAJ<<
, ale pamiętajcie, że jeśli macie ochotę zrobić zakupy na
KKCenterHK
wykorzystując kod:
AGUSAI
dostaniecie 10% rabatu. Kupon jest ważny do końca stycznia, więc z zakupami nie musicie się spieszyć ;) Ale gorąco Was do tego zachęcam, bo można tam znaleźć wiele bardzo ciekawych produktów do zdobienia paznokci.
Fakt, że produkt otrzymałam w ramach współpracy w żaden sposób nie wpłynął na moją ocenę
Thank you, agusai
Check out agusai blog
http://agusai.blogspot.hk/2013/10/pedzelki-do-zdobien-z-kkcenterhk.html