Cześć Dziewczyny,
przez ostatnie tygodnie miałam okazję testować kilka produktów pochodzących ze strony
kkcenterhk
. Mowa o różu, korektorze i tuszu do rzęs. Zacznę od tego ostatniego, bo używałam go najdłużej i "najbardziej" - od początku opakowania codziennie przez kilka tygodni.
Wszystkie produkty, ale najbardziej widać trochę różu. Na twarzy mam minerały Amilie Coverage Foundation w odcieniu Pine Nut, które nie jest 100% match, ale mogę nosić. Dużo odcieni widziałam na stronie. O tym jeszcze porozmawiamy.
Trochę różu jeszcze bardziej
Net Wt 10g
Special formula "Non-Heavy" and natural- looking definition.
Keeping lashes soft and flexible.
Fullness that feels real and light.
Makes this mascara perform better, adjust the application process take a time or two after the first time was dry.
Lasts all day without any flaking, smudging, smearing or streaking.
Even water-resistant, yet easy to remove
Opakowanie z napisami w języku polskim
Szczoteczka jest mocną stroną produktu.
Jest to maskara z gatunku tych naturalnych. Rozczesuje, rozdziela przez większość opakowania, ale pod koniec nieco się wysuszyła i sklejała mimo moich starań - na zdjęciu widać, że ze mną wygrała. Nie miałam grzebyka pod ręką ani wykałaczki ;) Na pewno wydłuża. Pogrubiać.. niekoniecznie, chociaż trochę na pewno, ale nie tak jak potrafią to zrobić tusze pogrubiające.
Nie osypuje się, nie kruszy, nie rozmazuje nawet przy potoku łez (alergicznych całodniowych). Trzymała się zawsze cały dzień do wieczornego demakijażu. Nie jest to produkt wodoodporny, ale kilka kropel deszczu czy duża wilgotność mu nie straszne. Dodatkowo schodzi ładnie przy asyście płynu micelarnego. Dzięki temu do demakijażu muszę używać tylko jednego produktu, co jest dużym ułatwieniem. Ułatwienia są mile widziane. Nie zauważyłam wzmożonego wypadania rzęs czy prześwitów. To też jest zawsze mile widziane.
Czy rzęsy są miękkie i elastyczne po tym tuszu? Być może trochę, ale na pewno nie tak jak w woskowej maskarze
Maybelline full n soft
. Do niej chętnie bym wróciła.
Nie potrafię nakładać drugiej warstwy po tym jak pierwsza wyschła. Nie da się na moich rzęsach tego zrobić. Jak widać, rzęsy mam raczej długie niż jest ich dużo.
Podsumowując, całkiem niezły produkt. Wiele osób będzie z niego zadowolona (dopóki nie zaczął sklejać, ja byłam zadowolona bardzo). Za $16.81, nawet z 10% rabatem, znajdziemy coś porównywalnego w Polsce. Bez większych problemów jak sądzę. Niemniej jednak, zaspokoiłam ciekawość i teraz już wiem.
One Piece Concealer Pencil
Easily conceal facial defects, instant luster luster to the skin glow and stereoscopic magic pen.
Easy to carry, whenever and wherever possible close cover.
Color : Pearl → For Freckles, Blemish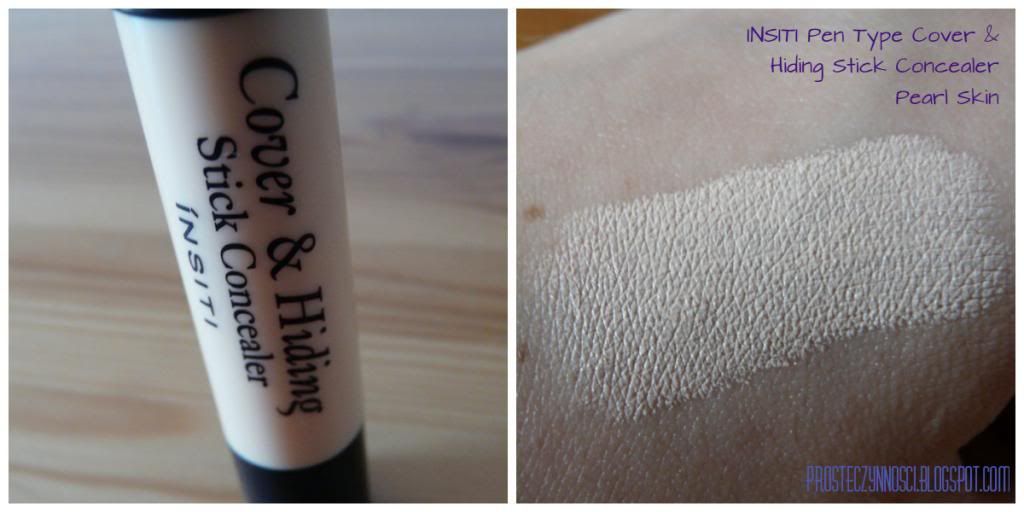 opakowanie i swatch
swatch na dłoni

podczas aplikacji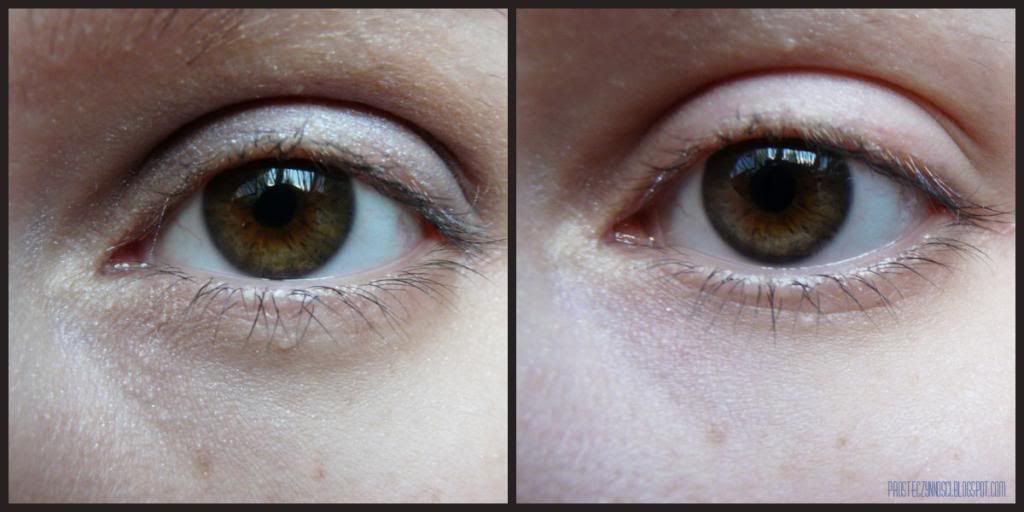 dla porównania przed aplikacją

W zasadzie sama idea tego produktu jest nieco podejrzana jak się tak nad tym teraz zastanawiam.

Zobaczcie - korektor jest

PEARL

(tak, sama sobie taki wybrałam), więc jest "perłowy" - miękki. Żeby działał, musi być pokryty utrwalającą warstwą pudru. Puder, jakkolwiek nie byłby odbijający światło, nieco korektor tłumi. Perłowość i miękkość jest fajna przy rozprowadzaniu produktu. Faktycznie jest łatwy w stosowaniu dzięki swojej kredkowej formie. Traci jednak moje właściwości podczas użytkowania. Zbiera się w zmarszczkach i załamaniach powieki nałożony na odtłuszczoną skórę.

Nie ciemnieje i faktycznie delikatnie kryje, ale nie jest to korektor długotrwały ani też rozświetlający (bo bez pudru znika po 3 godzinach, rolując się w brzydki sposób). Utrwalanie pudrem perłowym nieco pomaga zachować rozświetlenie i miękkość.

Trochę kryje, ale jest raczej przeciętny w kryciu i długotrwałości. Raczej ma

rozmiękczać

i nieco

rozświetlać

spojrzenie. W tym się sprawdza i myślę, że mogę go polecić zwłaszcza jeżeli tak jak ja, cieszycie się z gadżeciarskich opakowań typu

coś innego

. Przerabiałam korektory w sztyfcie/pomadce, w błyszczyku, w gąbeczce, w pędzelku.. W małej kredce i dużej. Duża kredka z wysuwaniem się sprawdziła w tym przypadku :)

Podsumowując.. Myślę, że ten produkt jest lepszy niż wiele drogeryjnych korektorów typu sztyft/pomadka. Jest łatwy we współpracy, ale trzeba go utrwalić. Niemniej jednak, dobrze się stapia i nie podkreślał moich suchych skórek. Kosztuje niecałe $9, więc same musicie zdecydować czy to jest coś dla Was. Dla mnie niekoniecznie. Myślałam, że będzie trochę bardziej krył albo może będzie trwalszy.. chociaż czy tak naprawdę myślałam? Już sama nie jestem pewna czego się spodziewałam.

Gdybym ja robiła zakupy na kkcenterhk, sięgnęłabym raczej po..
Suitable For Differ Style
Brush In Case Below
Color : Salmon
Size : 60mm X 60mm X 17mm
opakowanie
opakowanie 2
swatche na bogato po lewej i delikatnie po prawej :)
..róże!! W tej chwili ten odcień jest sold out, ale za $6.5 wcale się nie dziwię. Najlepsze jest to, że w sklepie są też inne. Tańsze i droższe, ale kaman - róż za $3.. jak można się nie skusić? :)
Na temat samego produktu będzie krótko i w punktach:
dobra pigmentacja
długotrwały
nie robi plam pod warunkiem, że nie nakładamy go na gołą skórę albo sam krem. łatwo się z nim pracuje
dobrze wygląda na wielu produktach bazowych
świetnie się go rozciera różnymi pędzlami, chociaż mam swój ulubiony do tego celu
ma dosyć nietypowy kolor - różowy/koral, lekki jasny łosoś, chociaż intensywny=widoczny
na pewno jest wydajny, co nie jest zaskakujące z racji tego, że to makijaż kolorowy
ma ładne i funkcjonalne opakowanie z lusterkiem (i pędzelkiem, chociaż używam pędzli of my choice)
nakładam go najczęściej skunksem, którego dostałam od

Simply

- ładnie rozkłada pigment na twarzy, sprawdza się.dzięki Kochana!
Po prawej stronie bloga znajduje się informacja dotycząca promocji.
Do końca stycznia zapłacimy 10% mniej na hasło

strilinga.
website: http://www.kkcenterhk.com
blog: http://kkcenterhk.blogspot.com/
tumblr: http://kkcenterhk.tumblr.com/

Miałyście okazję? Wiem, że wiele Dziewczyn zaopatruje się tam w rzeczy do paznokci..
Dzień dobry. Jest wtorek. Muszę lecieć, bo spóźnię się do pracy ;P

Stri
Thank you, prosteczynnosci
Check out prosteczynnosci blog
http://prosteczynnosci.blogspot.hk/2013/08/from-kkcenterhk-with-love-tusz-do-rzes.html