I have a little bit of time to work on my blog today, so I'm going to try to get caught up on some things and schedule these posts in advance. I'm a little behind on the Pokemon Nail Challenge, so today I'm going to show you my bug nails. I also have a review for you with this.
I say I want to show you my bug nails.. but really these are more Pokemon inspired than actual Pokemon. I just wasn't feeling it and just wanted to do something simple.
Here is what inspired this manicure.... Parasect!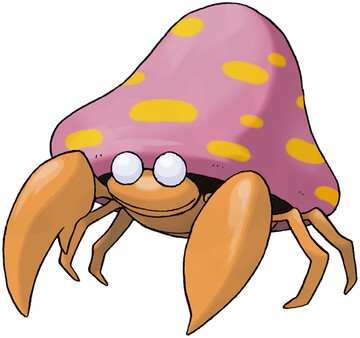 Of course, shiny Parasect as well :)

Here's a short description of Parasect: "Like its previous stage, Parasect is an insectoid creature. However, in this stage, the mushroom has completely overtaken the host's body."
For this manicure I used just three Zoyas: Paloma, Arizona and Pippa. It was almost Valentine's Day when I did this manicure, so I decided to do a spin on Parasect's mushroom pattern. I used the
Two Heart Nail Printing Mode item number NPM-M043
from KKCenterHK.com for this look. To give the manicure a more "mushroomy" look, I applied one coat of Julep's matte top coat.
The printing modes are $2.67 and you get a set of 11 stickers, which is good because it's enough for all fingers plus one to practice with. These did take some practice. Basically, these are masking stickers. You paint your nails, let them dry. Next, you peel off one sticker from the packaging, roll it on your fingers a few times so the glue doesn't stick to your nail. Next, you place the sticker on your nail, then fill in the design with another polish. The final step is to remove the sticker. Sorry I don't have pictures of the entire process... I'll keep that in mind for next time!
You can see in this next picture my first attempt with this item. As you can see, it doesn't quite look like a heart. I do want to mention that I tried to use the same "mode" on my thumb multiple times so that may be why it messed up a little bit. The instructions said to apply a moderate layer of polish but I found that a somewhat thinner coat worked best.
I found these to be a little time consuming.. it took about half an hour to do all of my nails, just with the heart design. I was really happy with the final effect however! It was fun and this would be great for anyone who isn't well practised in nail art.
Sorry the pictures aren't cropped.. I'm using Mike's computer and I'm not used to his operating system. I thought the images were cropped until I imported them here :P
Thanks to KKCenterHK for providing me with the printing mode to try. All opinions stated here are my own. Yours may differ.
Thank you, samplesentaeyen
Check out samplesentaeyen blog
http://samplesentaeyen.blogspot.hk/2013/02/pokemon-challenge-bug-and-review.html