Ostatnio, żeby blogować przydałaby mi się co najmniej godzina więcej w czasie doby. Nie wyrabiam z obrabianiem fotek, przetwarzaniem wiadomości i różnymi wydarzeniami życiowymi. Matko Boska ile się dzieje! No właśnie miała być pierwsza część relacji ze spotkania, ale się nie wyrobiłam. Tu rodzina siedzi mi nad głową, tu koty (przez nie chyba zapomnę co to prywatność), weterynarz, gorący faceci... Istne szaleństwo. Dlatego przepraszam za te nocne notki. Ale jedyny czas, kiedy mam chwilę dla siebie to późne godziny nocne...
Ale dziś o czym innym. Kiedy
KKCenterHk
podało mi listę z czego mogę wybrać produkty myślałam długo. Nawet bardzo długo. W końcu zdecydowałam się na coś, czego byłam pewna, że sama nie kupię. Po nieprzyjemnych doświadczeniach z płytkami Essence byłam bardzo zniechęcona do stemplowania, chociaż ciągle wzdychałam do zdobień B. Jednak ta
płytka z pięknymi kwiatami
mnie urzekła. Obecnie najchętniej robiłabym zdobienia tylko nią. Dosłownie :P Dodatkowo dostałam
stempel i scraper
, co w sumie niesamowicie ułatwiło mi życie, bo zestaw spisał się na medal!
Oczywiście jak tylko dorwałam płytkę w swoje ręce nie mogłam się powstrzymać od pierwszej próby na papierze. Szczególnie, że to jedno z moich pierwszych stemplowań nie chciałam od razu niszczyć swojego mani, więc kilka prób na kartce się odbyło i przyznam, że cieszę się, wszystko poszło lepiej niż się spodziewałam, bo patrzyłam na stempelki i byłam co raz bardziej zauroczona. Na dodatek powiem Wam, że na początku próbowałam stemplować za pomocą starej karty bankomatowej, ale uwierzcie mi bunt na całego, a stemple do bani! A przy scraperze z KKCenterHk zero wpadek! Wszystko szło po mojej myśli!
Może właśnie dlatego nie powstrzymałam się i już wcześniej Wam pokazywałam, że na czerwonym wylądował jeden z kwiatowych wzorów. Gdyby nie top coat moglibyście zaobserwować to jeszcze lepiej. Ale i tak połączenie czerwieni i czerni było dobrym i bardzo kobiecym wyborem.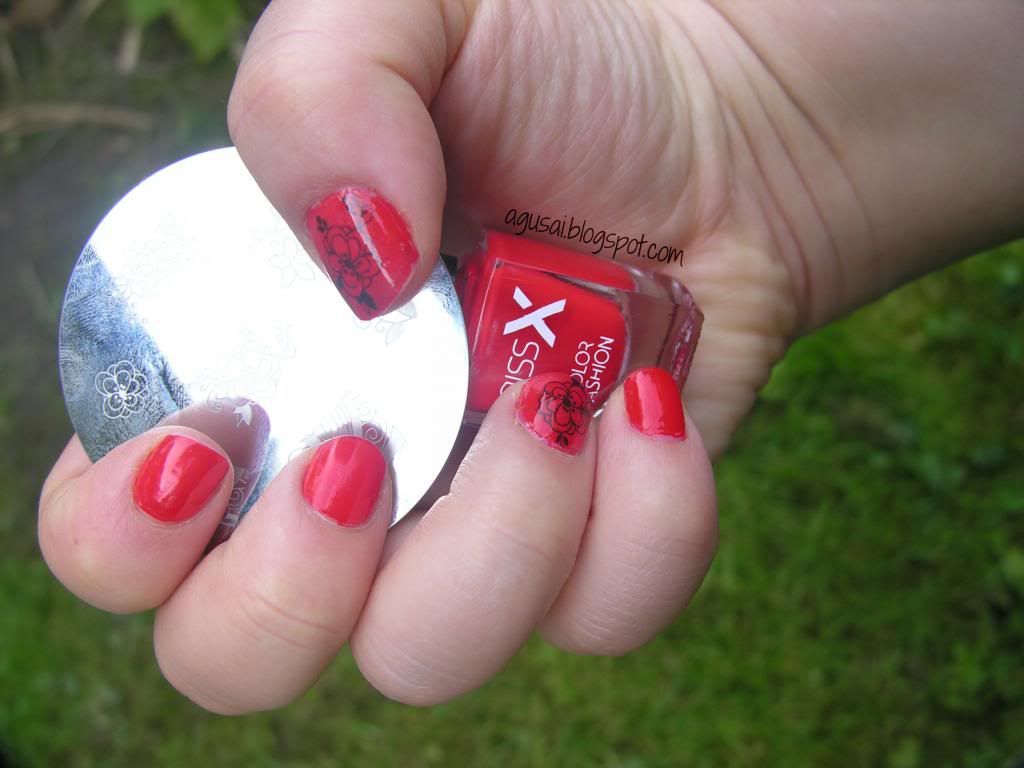 Dodatkowo przy moim zakręconym ostatnio życiu (B. oddaj mi trochę Twojego ADHD!) nie miałam czasu na zmalowanie samej czegoś fajnego na spotkanie, więc skorzystałam z pomocy mojej przyjaciółki Płytki ;) I chociaż zadowolona nie bardzo byłam - top mi trochę rozmazał wzór, nie umiem odbić tego w miarę prosto i robiłam tysiąc poprawek - to dziewczynom to zdobienie bardzo się spodobało. To niesamowita ulga zważając na fakt jak piękne paznokcie dziewczyny miały! Zniewalające wręcz! Ja słuchajcie nawet nie zdążyłam porządnie paznokci obfocić, więc bądźcie wyrozumiałe w kwestii zdjęć ;) Robiłam je na szybko po spotkaniu i nie zachwycają jakością. W sumie jedyny minus, który mogłabym zarzucić płytce to to, że najdłuższy wzór jest i tak za krótki na mój nienaturalnie szeroki kciuk i kombinowałam niesamowicie, ale poza tym na serio nie mogę się do niczego przyczepić. Wręcz przeciwnie!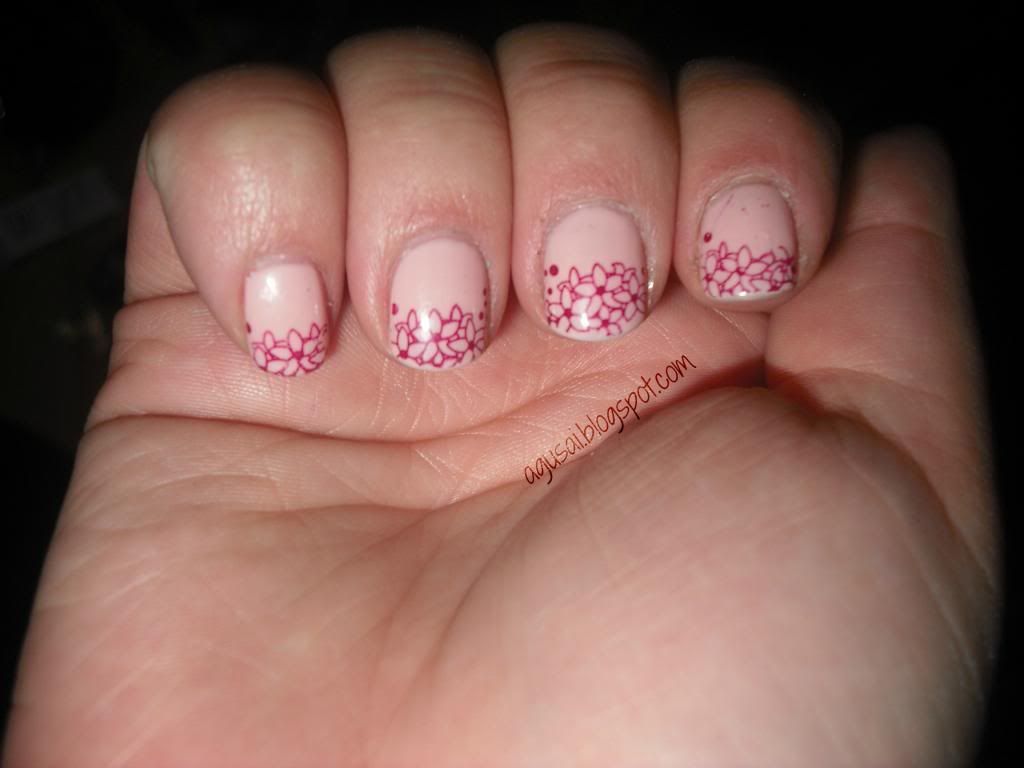 Zapałałam miłością do płytek! Już się nie dziwię czemu B. je tak uwielbia! Zdecydowanie chcę więcej i wiem, że zdobienia z płytek nie raz zagoszczą na moich paznokciach, szczególnie, że moje ukochane Rich Colory z GR idealnie się do tego nadają! W obu przypadkach zdobienia wykonałam właśnie nimi. A jeśli i Was zafascynowała ta, bądź inna płytka z KKCenterHk przypominam, że na kod
AGUSAI
macie 10% rabatu! Ja już szukam kolejnych płytek!
Fakt, że produkt otrzymałam w ramach współpracy w żaden sposób nie wpłynął na moją ocenę
Kochani już niedługo relacje ze spotkania! Najpierw taka ogólna, a potem pokażę Wam co dostałam, bo ilość wręcz powala! Do teraz nie mogę uwierzyć ile tego jest i nie zastanawiam się gdzie to pomieścić!
Thank you, agusai
Check out agusai blog
http://agusai.blogspot.hk/2013/10/pierwsze-proby-stemplowania-z-pytka.html